Corina Ursu
FREELANCE HUBSPOT CONSULTANT | DIGITAL STRATEGIST
Certified Hubspot Consultant providing setup & integration, campaign management and training services. Working with a diverse set of companies from cybersecurity services to SaaS startups, online education and virtual events.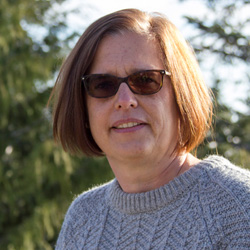 My goal is to help businesses implement strategic, budget-friendly marketing programs that naturally attract, educate, and earn the trust of their ideal buyers.
Take a look at my resume and the skills I accumulated in over 20 years or working in marketing.
Your dedicated Hubspot freelancer
HUBSPOT SOLUTIONS PARTNER
From Vancouver to Los Angeles, San Francisco, New York or North Carolina, I helped dozens of companies streamline and improve their Hubspot operations.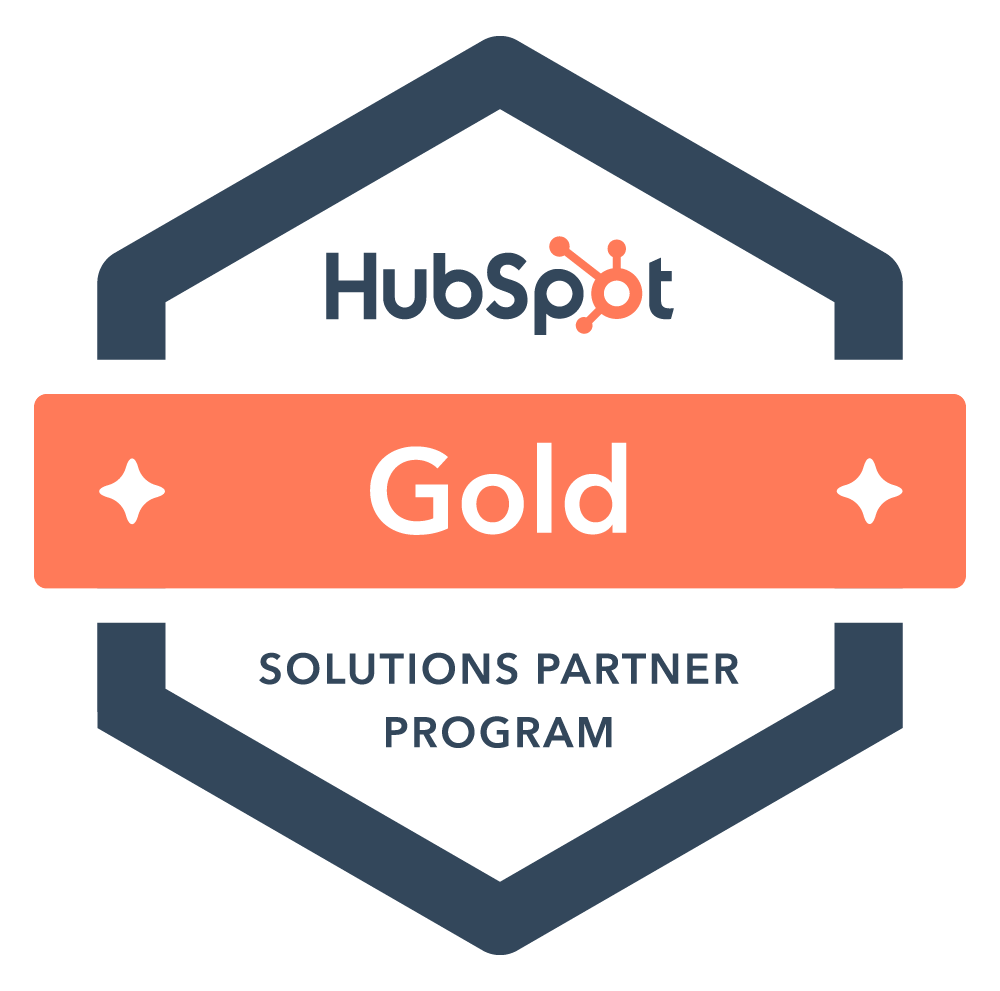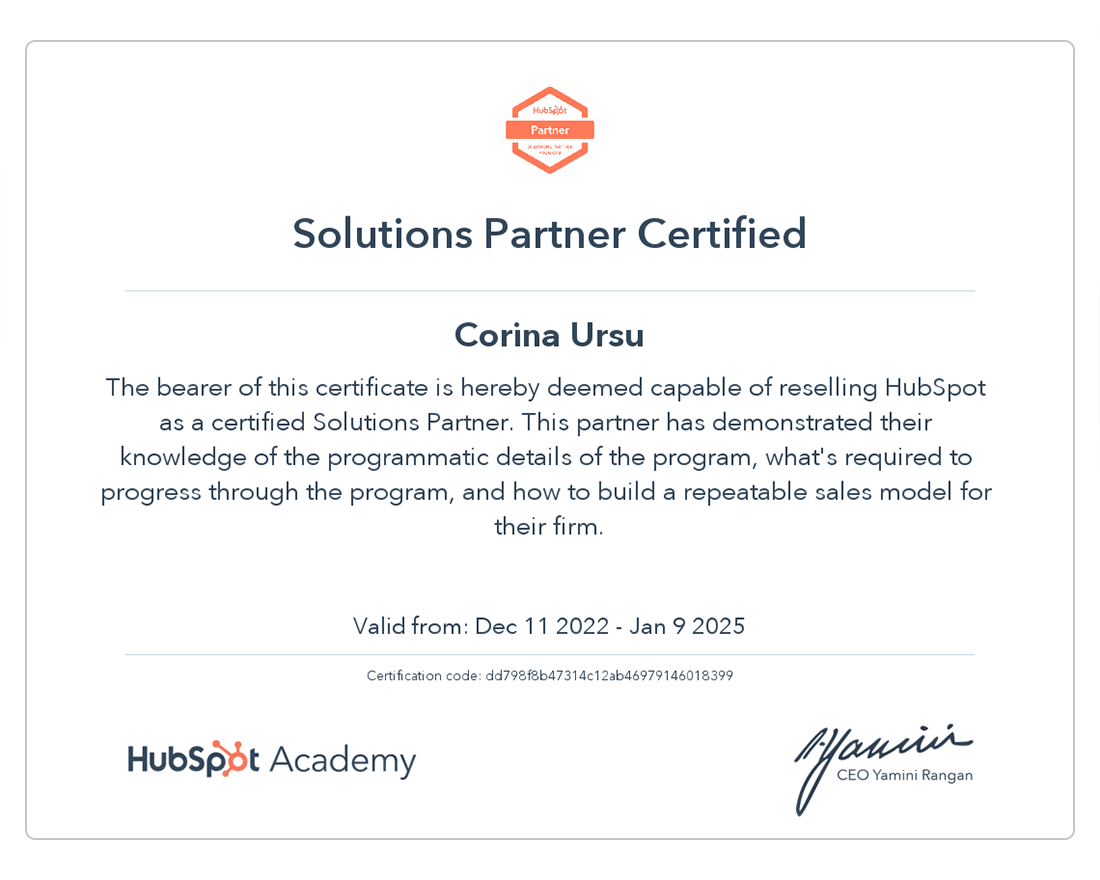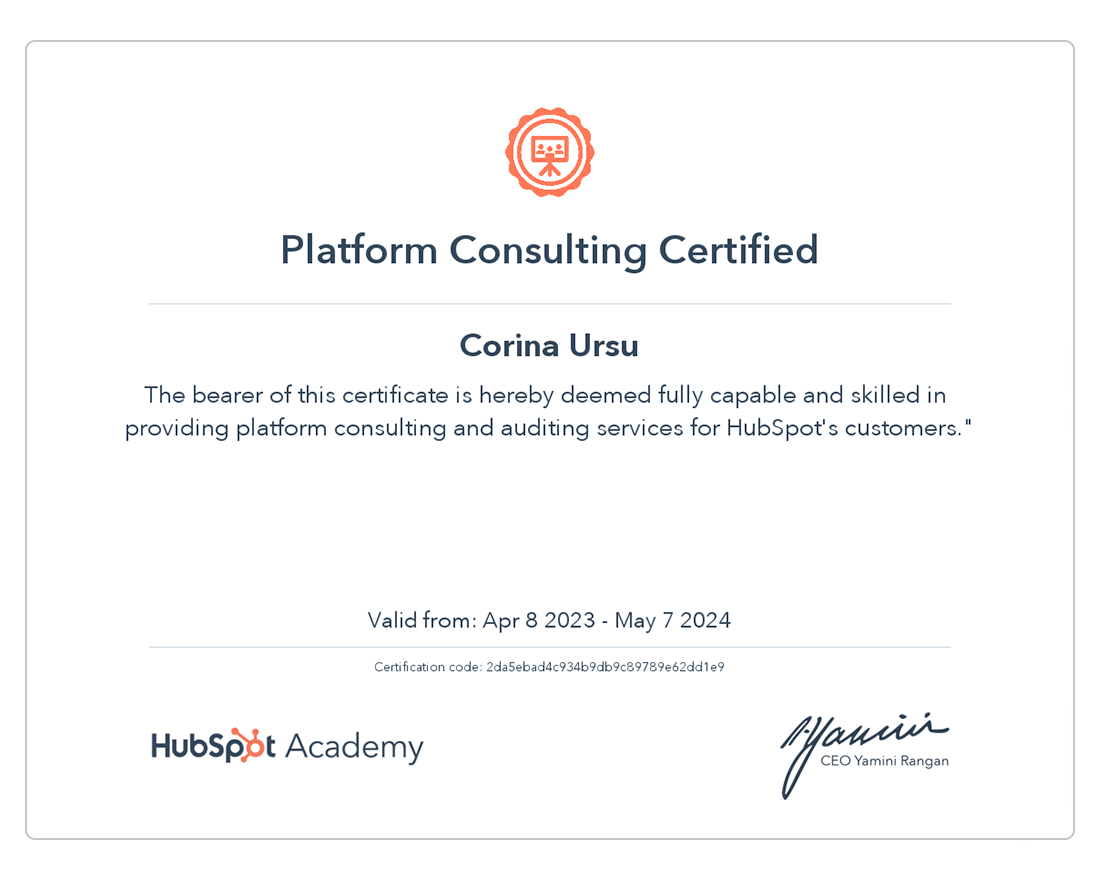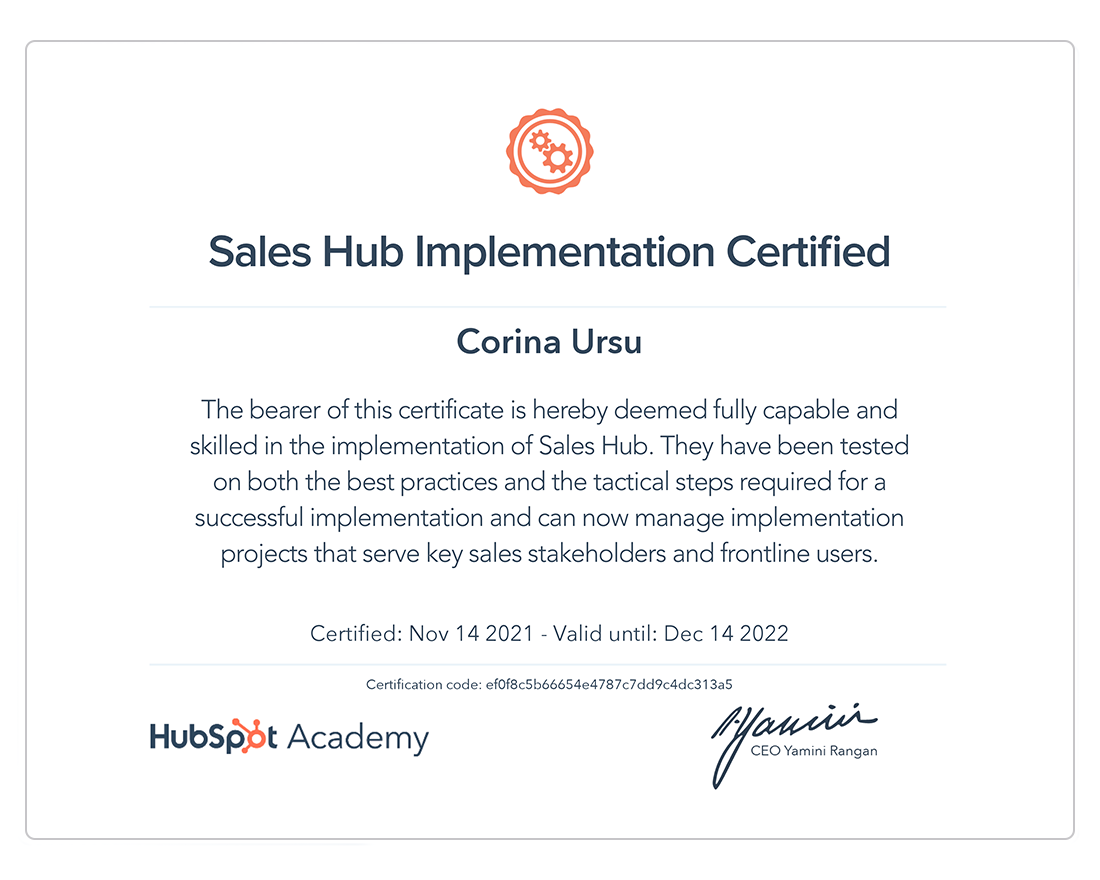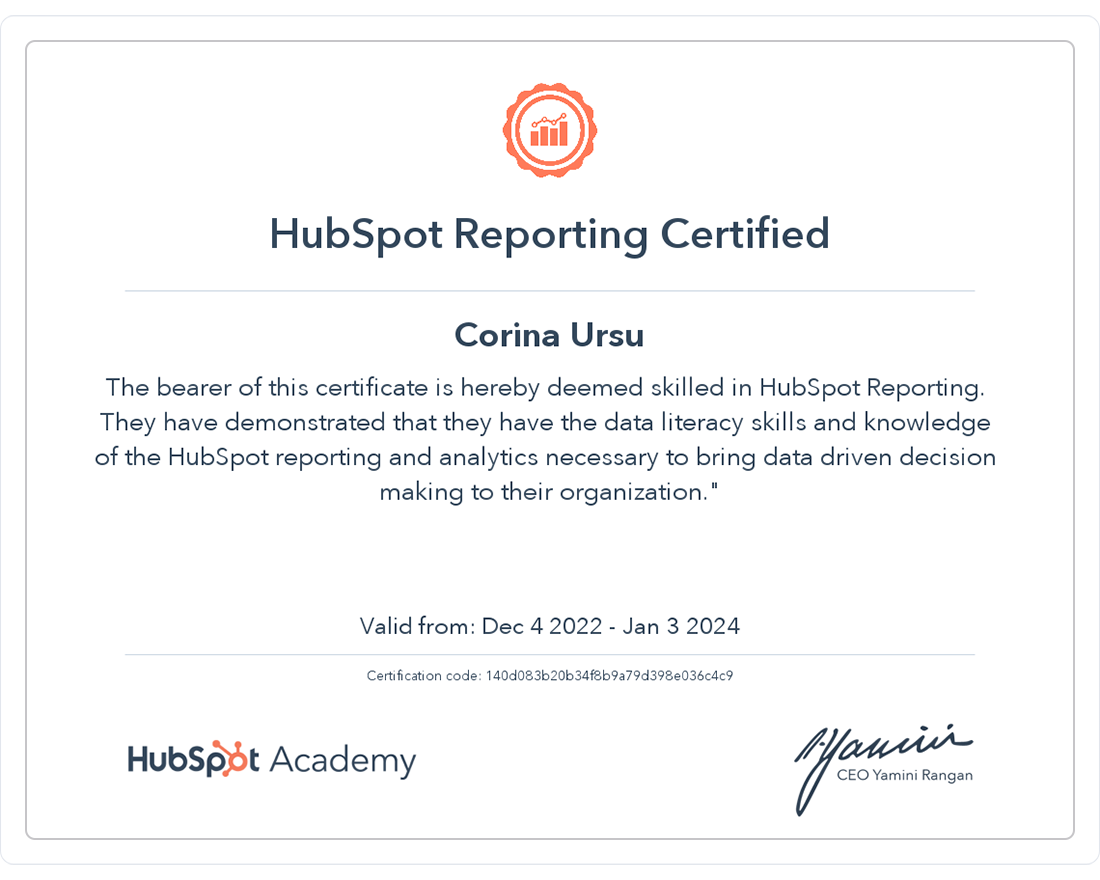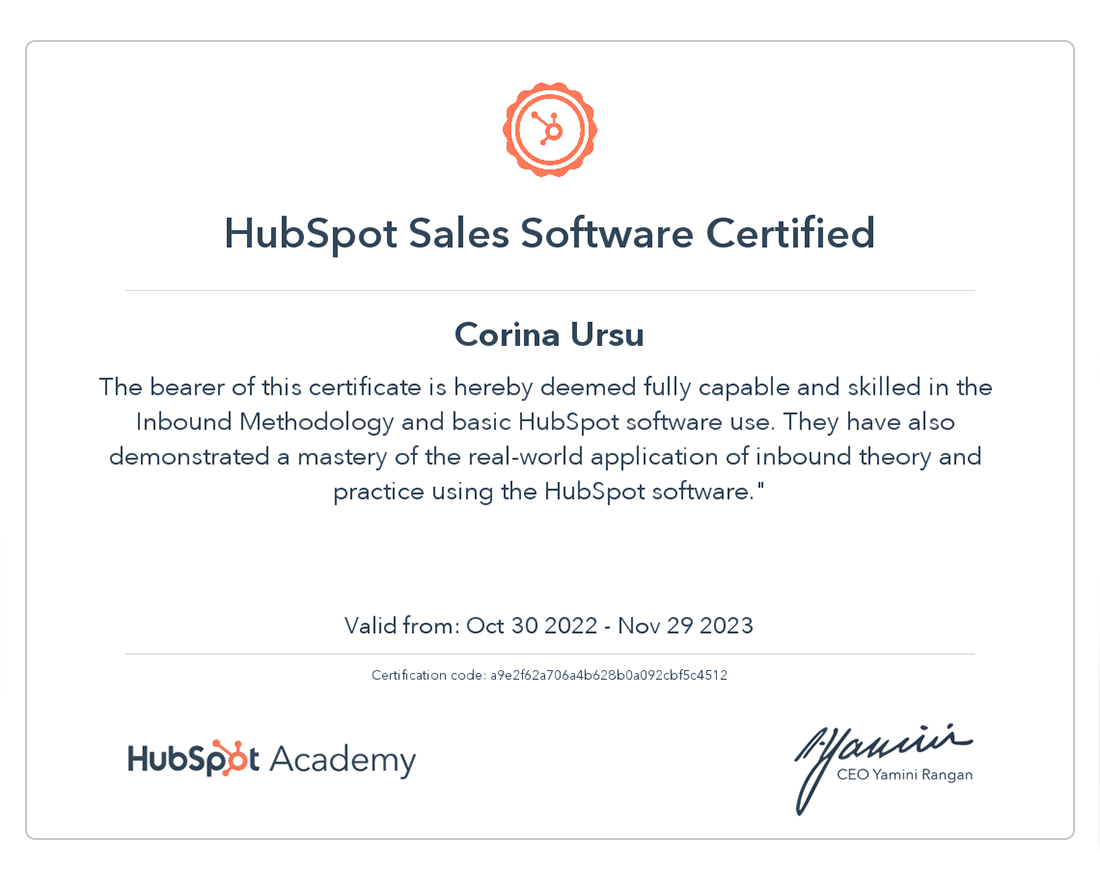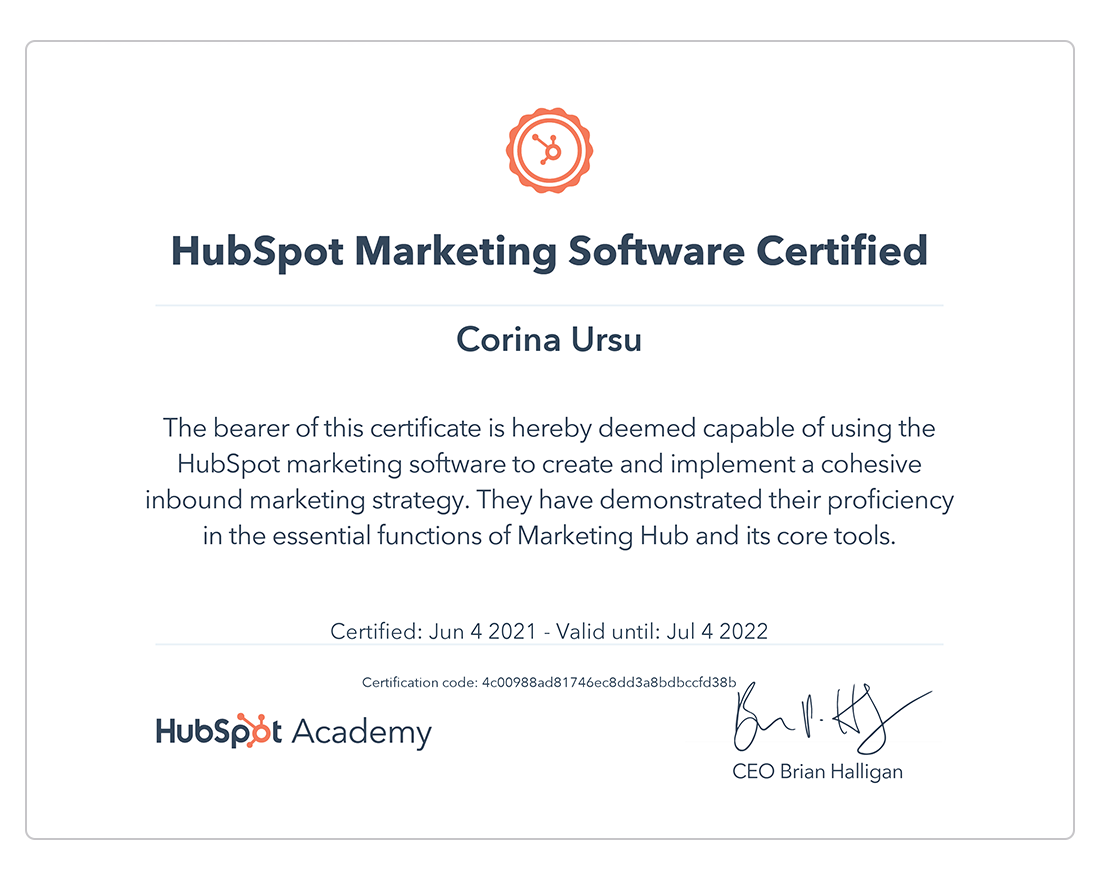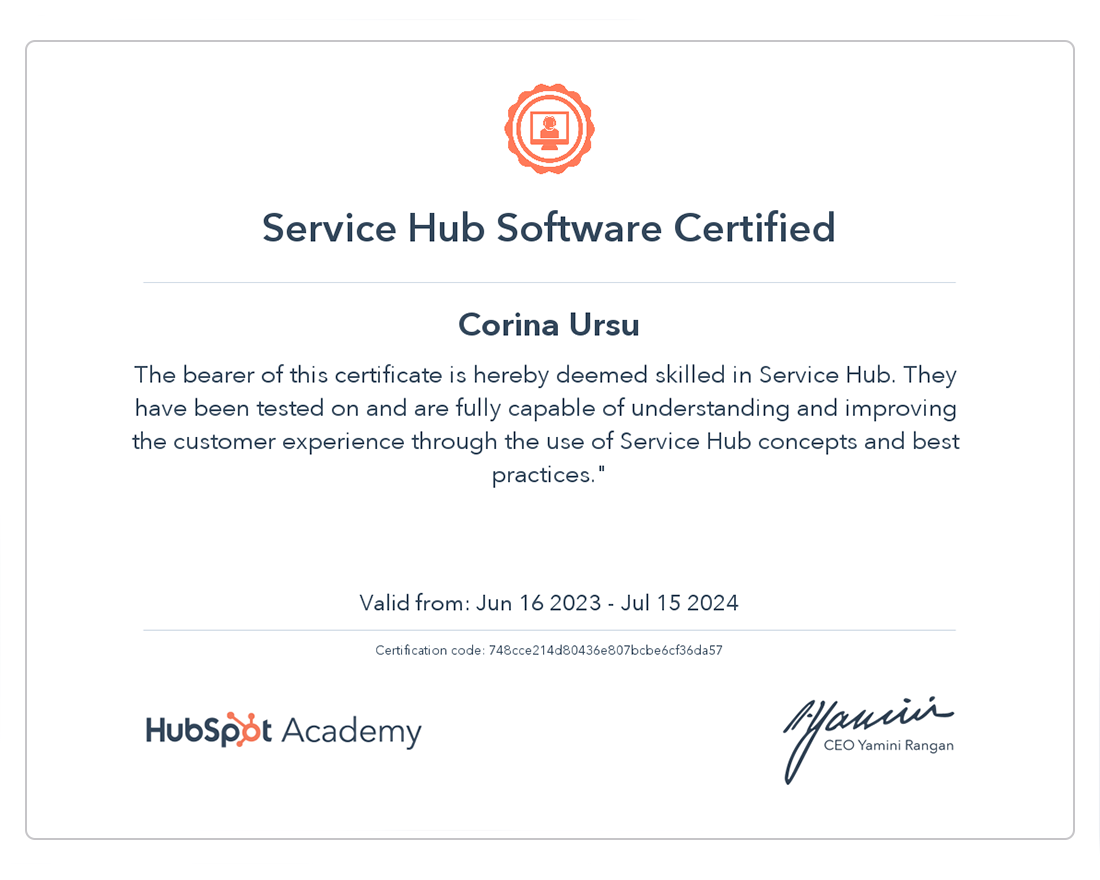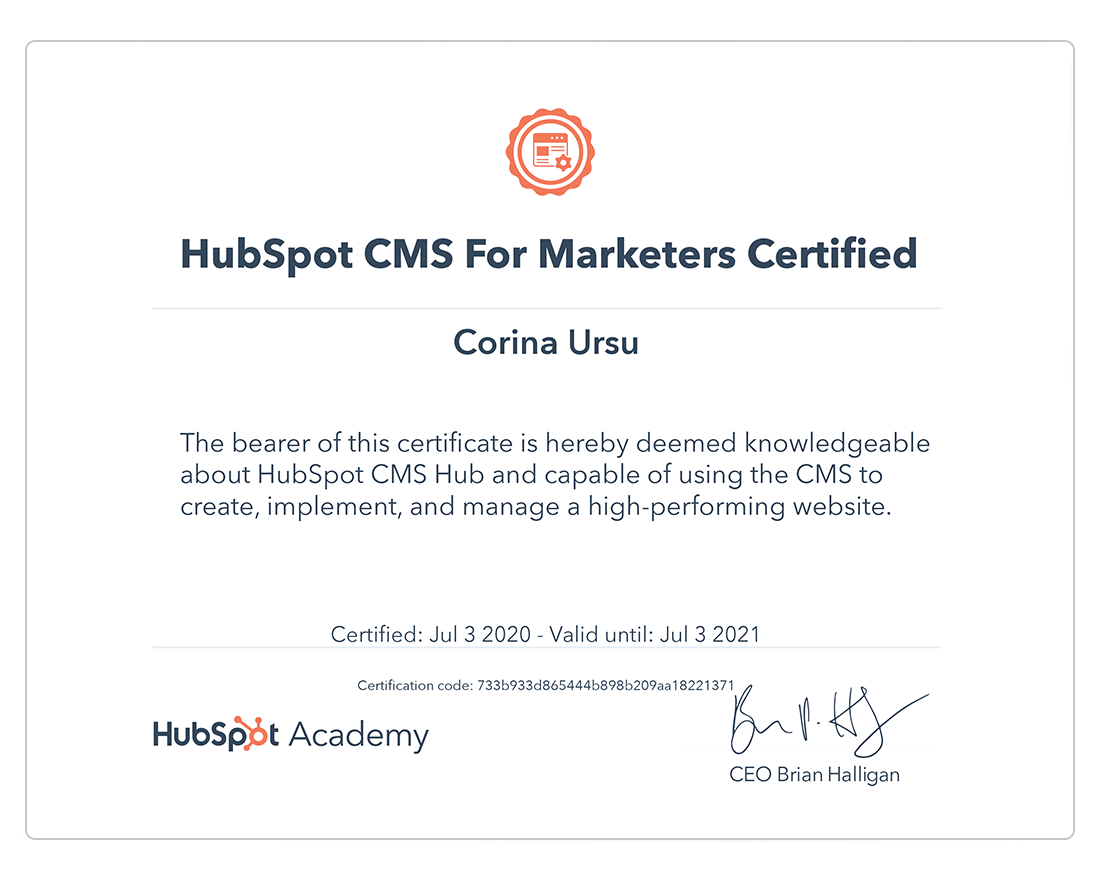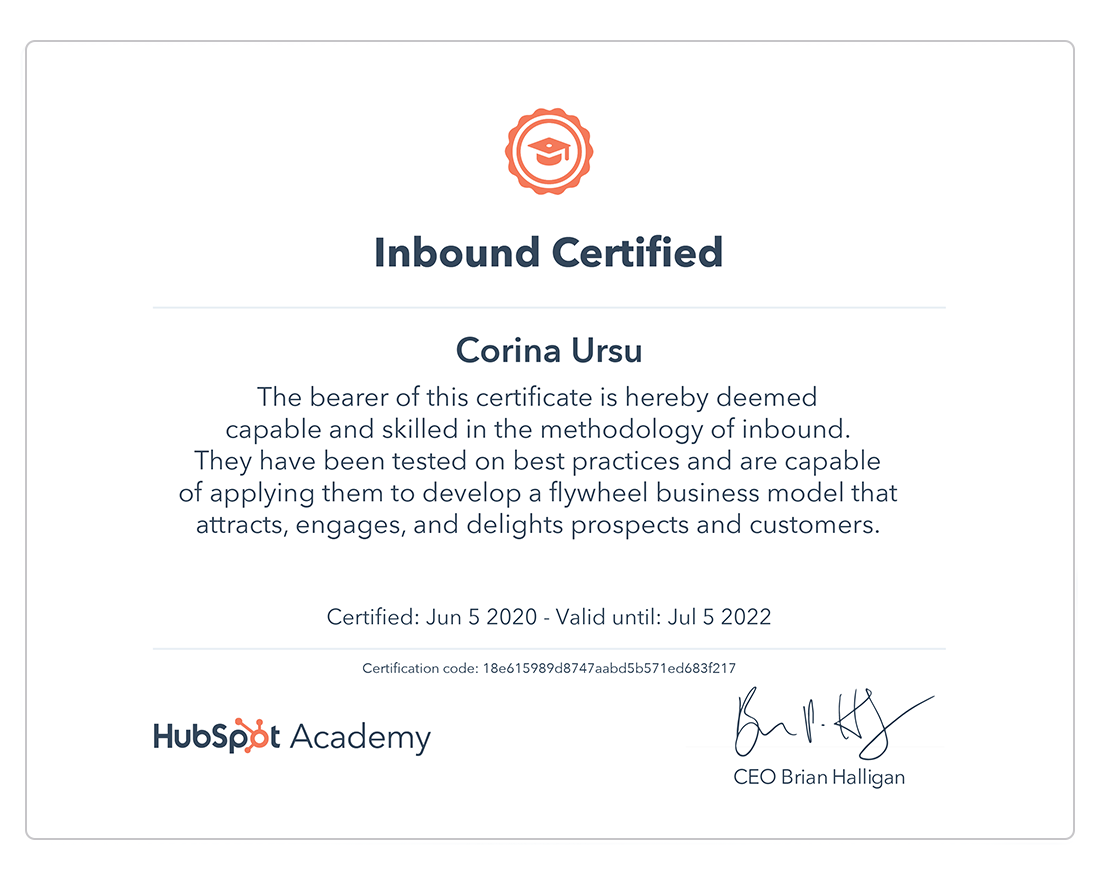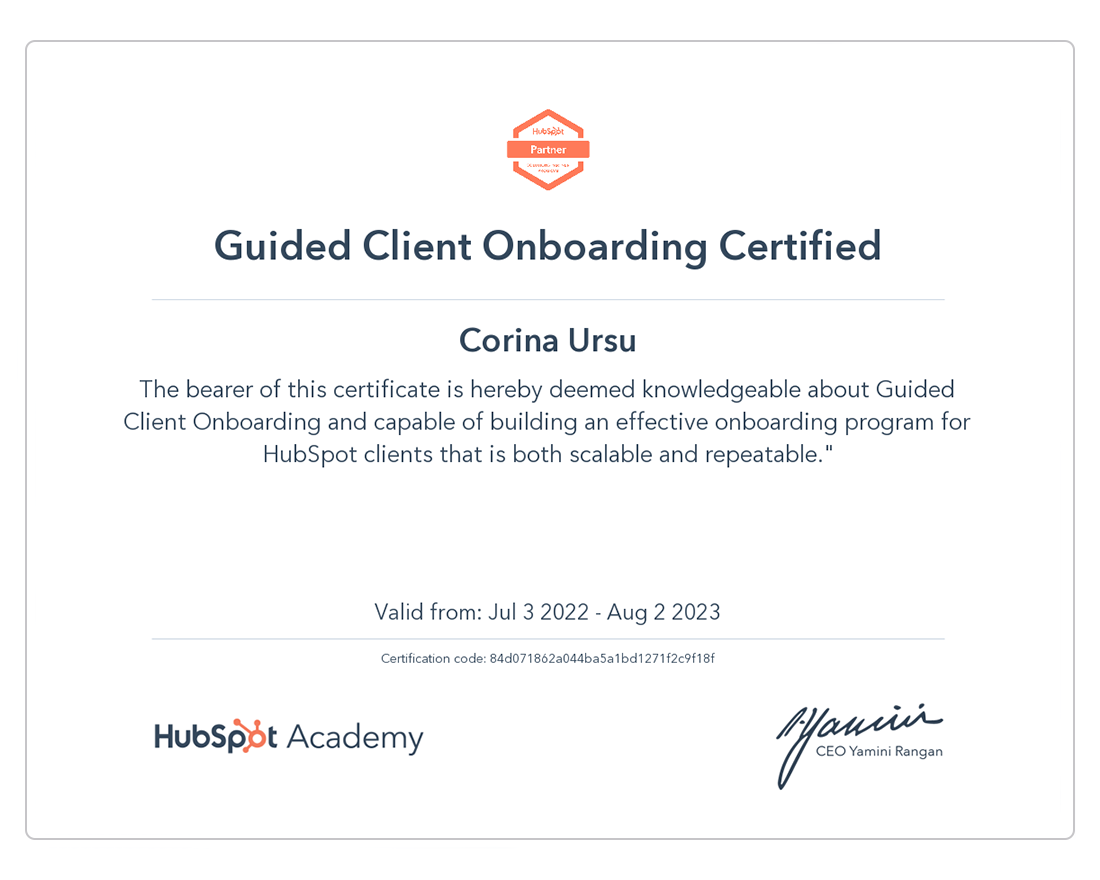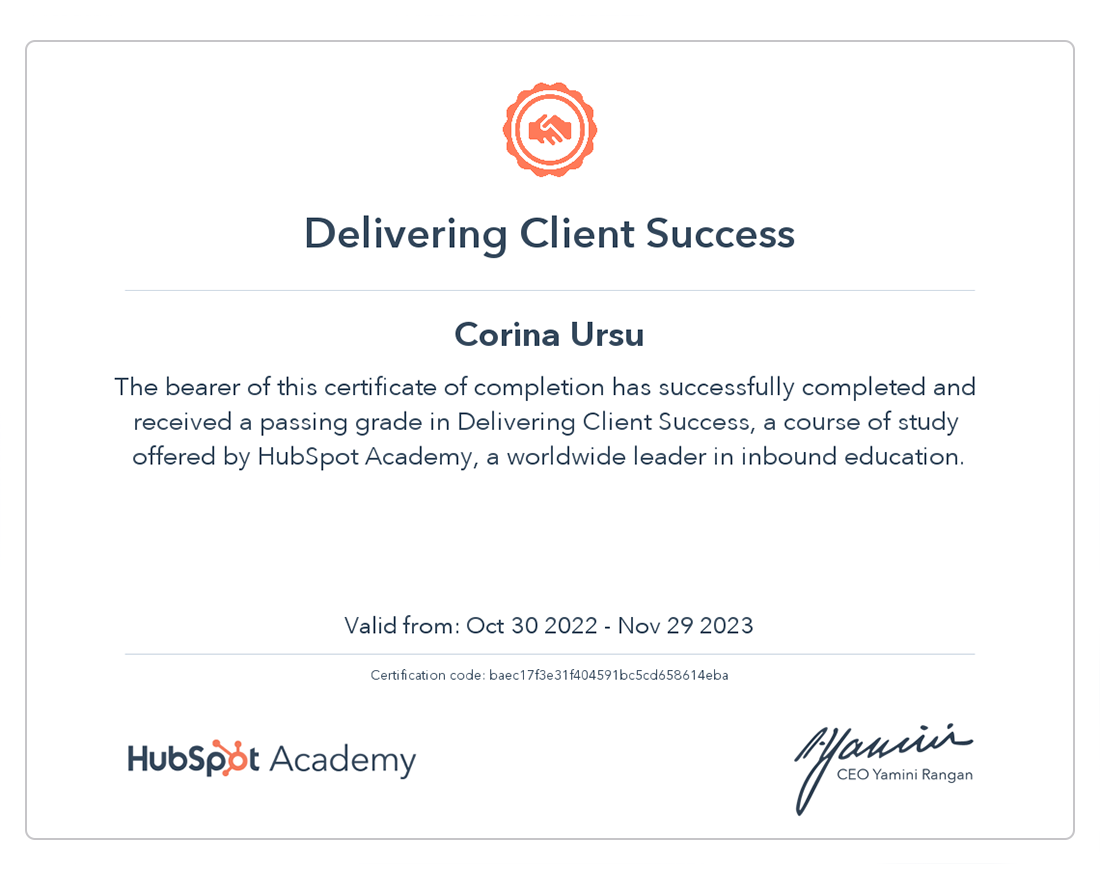 Web Imagine
HUBSPOT CONSULTANT | DIGITAL STRATEGIST (June 2020-Present)
Certified Hubspot Consultant providing setup & integration, campaign management and training services. Working with a diverse set of companies from cybersecurity services to SaaS startups, online education and virtual events.
Regency Fireplace Products
DIGITAL MARKETING STRATEGIST & CREATIVE DIRECTOR (2015-2020)
Develop and provide expert planning for multi-channel marketing strategies to enhance customer experience and build brand presence through content across digital channels including website, social media, email & online advertising.
Worked collaboratively to define the annual corporate marketing strategy objectives and goals
Managed the creative team responsible for web development & all marketing materials print – web – video
Project and campaign management, strategy, and resource planning
Worked to develop web roadmaps for consumer websites and dealer portal
Lead implementation of Hubspot (CRM & marketing automation software)
Administered all marketing automation (Hubspot): Lead conversion paths, scoring and qualification, email nurture campaigns, list management, workflows, reporting
Used web analytics and sales data to maximize sales conversion and optimize the user experience
Managed cross-department projects and maintained and built relationships with outside agencies and partners
B2B communication and support including training for reps and dealers
Regency Fireplace Products
CREATIVE DIRECTOR (2002-2015)
Deep experience in identifying consumer insights and leading the creative process to deliver campaigns across various media, in-store, social and online touchpoints.
Managed the creative team responsible for all marketing materials print – web – video
Art direction: brochures, flyers, direct mail, POS, trade-shows & event materials
Directed photo and video shoots
Supported annual product launches – online and offline
Implemented in-house marketing process, briefing system, approval process & project management software
NetNation Communications
GRAPHIC DESIGNER (1998-2001)
Worked on diverse print and online projects for NASDAQ listed web hosting company as well as two subsidiaries (Stormix & Domain People).
Frequently Asked Questions
What is Hubspot?
HubSpot is a software platform designed for inbound marketing, sales, and customer service. It helps businesses attract visitors, convert leads, close deals, and maintain relationships with their customers. HubSpot offers a suite of tools that includes a customer relationship management (CRM) system, email marketing, social media management, content management, and analytics, among others. The platform is designed to streamline and optimize various aspects of digital marketing and sales, making it a popular choice for businesses looking to improve their online presence and grow their customer base.
Why should you hire a Hubspot consultant?
1. Expertise: A HubSpot consultant has in-depth knowledge of the platform and can provide valuable insights to help you leverage its features effectively.
2. Time-saving: A consultant can quickly set up and configure your HubSpot account, allowing you to focus on other important tasks.
3. Tailored strategies: A HubSpot consultant can assess your business needs and develop customized marketing, sales, and customer service strategies to maximize your ROI with the platform.
4. Training: A consultant can provide training and ongoing support to your team, ensuring that they can use HubSpot efficiently and confidently.
5. Integrations: A HubSpot consultant can help you integrate the platform with other tools and systems, streamlining your business processes.
Ultimately, the decision to hire a HubSpot consultant will depend on your specific goals, budget, and the expertise of your internal team. In many cases, working with a consultant can help you make the most of your HubSpot investment and drive business growth.
How much does it cost to hire a Hubspot Consultant?
The going rate for HubSpot consultants is typically between $100-$200 per hour, with fees varying based on their level of expertise and the intricacy of the job. However, large agencies often come with high overhead costs.
If you're looking for personalized attention and cost-effective pricing, you may want to consider a freelance HubSpot consultant or boutique agency, which can start as low as $95 per hour.
Do I need Hubspot?
All services require HubSpot software – Hubspot subscription not included.
If you haven't made a purchase yet, reach out to us first so we can help you find the best pricing available. Plus, if you opt to work with us as your certified Hubspot partner, we'll waive your onboarding fees. Trust us, it's a win-win situation!
Which levels of HubSpot are supported?
The HubSpot Implementation Packages are for Professional or Enterprise level subscriptions of HubSpot Marketing Hub, HubSpot Sales Hub, or HubSpot Service Hub.
How long does it take to get onboarded?
Depending on the size of your organization, needs, goals, HubSpot packages purchased, how much content needs to be migrated, your HubSpot implementation will take between 4 and 12 weeks.
LET'S CONNECT
Do you need help with Hubspot?
Not sure if we are a fit? Schedule your free 30 minute intro call.
Whether you need an implementation for a new Hubspot account or are looking to streamline your existing Hubspot CRM—get started with a no-obligation call.
Gold-Level Hubspot Partner

Several Hubspot Certifications

5 out of 5 Star Reviews